Are you writing a nonsense poem, late-night tweet, or doctoral thesis?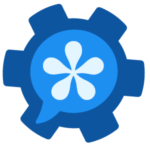 At a loss for words? Then make some up! Remoggle is a bold experiment in the new field of Artificial Stupidity — it can make up millions of words that don't really exist…yet!
Just ask Word Maker for a made-up word — there's no charge! Then you'll hear it pronounced and spelled, so there's no mistakes on your status update, haiku, or graffito!
Word Maker also Tweets a new word every hour, because who doesn't need more nonsense on Twitter?